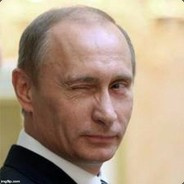 Quoting an infamous Brazilian,
im feeling pretty YELLOW right now lads know what i mean
ew, you're using a very wip 2018 version of my avatar

look at those eyes
soulless piece of shat

look at you talk mr. one-eye
you didn't add black huh? Xd oh well xd
which one of yous dont know how to flush the bloody toilet
Fun fact: the logo I've been using almost since my infancy on Steam is actually a 2014 WIP model from MS Paint that I never completed.
I should probably get around to a better one.
yea'h

Look at this guy. The little mask he has on, the deep blue background he's infront of, waving towards the viewer.
He's great.
His face is smaller than hand!
and i thought my memes were bad…