Phantom Forces was getting boring so I decided to actually make a serious suggestion for once.
Imagine visiting Times Square only to see this: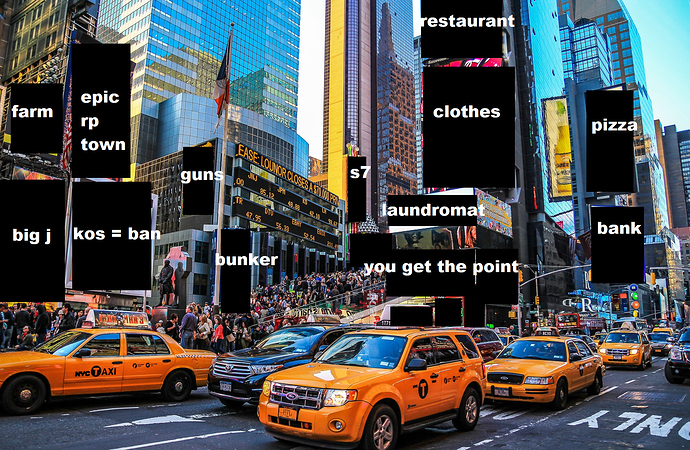 Yeah, I don't like it much either. But that's exactly what's happened in every previous Unturned version, and I'd like it improved on.
I believe each type of store should have its own independent branding. The names don't even need to be that creative, they could just be parodies of real life stores, like GTA does it for example.
So next time I see a pizzeria in the distance, I better see "Papa Nelson's" instead of just "Pizza".
Store names could also vary by country/region, but of course that doesn't exclude the possibility of worldwide store chains.
Other places where brands could appear would be vending machines, maybe? You decide.
More branding
Keep it this way
Actually Big J just takes over every possible bussiness like a boss
EDIT#1 Another thing, maybe store colours could still be uniform, so you'd know a laundromat by it being blue, even if it had a different name, for example?
EDIT#2 Great complementary suggestion by Rio man @FlodotelitoKifo