Sigh. This marks my third and final revision of this post. I've written it already twice, but there was always something wrong with it so I never published it. Well, here you go, the thrd revision of "Makeshift and Improvised Weapons."
---
In Unturned 3, makeshifts are, well, almost useless. Sure, the makeshift rifles are nice and all, and ammo can be crafted for them, but in the end, there's so many Schofields and Hawkhounds lying around in farms that taking the time and effort to make one is just not worth it. The solution? Make the makeshifts weapons unique and desirable, able to compare and be used side-by-side with modern weapons. I even took time to name thrms!
Melee
Shiv


A makeshift knife made from a piece of scrap metal sharpened aginst concrete, then wrapped with tape to form a handle.
Spiked Bat


A baseball bat with nails driven into it.
Macuahuitl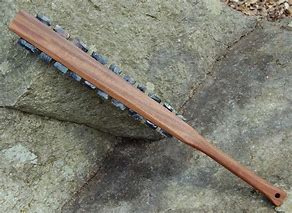 A modern take on the ancient Aztec club of the same name, with razor blades replacing the obsidian.
Firearms
Lupara


A makeshift single-shot shotgun.
Cricket


A repeating pistol made from sheet metal.
Carlo

The pinnacle of improvised weaponry, a fully automatic handmade submachine gun.
Karabine

A pistol-caliber carbine made from a paintball gun.
Alcatraz

A makeshift rifle.