I made this really cool suggestion about making unturned 3.0 open source.
These were the votes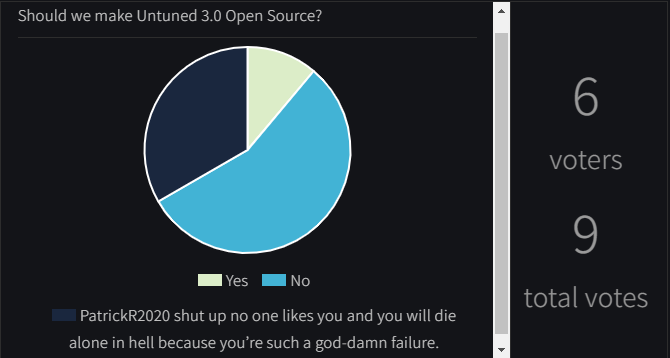 Yes, we can see this ourselves.
If more polls means you stop farming for reg then I am all for more polls
Shhhhhhhh
Having Regular only felt good during the time of U4 suggestion. Now we are in devblog time where Nelson has our and his ideas well established in the trello.
OP didn't get the memo and is still out here combing the forums upvoting year old posts
Joke answers will always garner a large amount of votes. In this case, not many people voted (yet), but the idea still applies. :x
Don't have joke answers on polls you care about.
If null option isn't 100%, your poll is invalid
Imagine using self-deprecation to validate spam posts and make yourself seem self-aware.
Alright you're kinda making me depressed.
Yes I am. Sorry if that annoys you but I'll still do it anyways.
I'm never getting regular lol.
Why does everyone think that's what I'm doing?
Big if true
Excatly. So kindly stop likespamming. I'd believe you more readily would you not a) upvote literally anything and b) go out of your way to find old posts you can upvote.
Because it looks like badge farming.
Well I can't really do much about that except laugh at you.
imagine not having regular. that must suck. i cannot relate

It's for special people. Not having it makes me finally feel normal.
Honestly it doesnt really do anything. I don't think it's worth trying to farm for it as you will just end up spamming and annoying people
Don't think you can even obtain it anymore.
Real "regulars" just read everything, they like everything they actually liked or agree with and react if they got something useful or funny to say. They also don't spam the categories with pointless topics too lmao.
You don't need a prefix to be able to do all this.
Much love to the community here :]
yep. for example, I lost mine after some racist remarks, and I feel much better as a person now. you don't realize how much that regular rank keeps you down until you lose it
you can
This topic was automatically closed 28 days after the last reply. New replies are no longer allowed.