Deathblow will be an Thriller Survival RPG with some battle-royale elements.
What's the game about?
You are a prisoner of a futuristic communist country which has sent you to an arena.
Every arena/round will be procedurally generated and will have it's own procedually generated story.
What do i mean by story? The focus of Deathblow are NPC's which they will have emotions too.
They will seek for food, water, loot…ecc. They will interact with other NPC's and you making little groups, deciding if attack or spare someone, create friendships, make enemies and remember you and other NPC's.
This is a passion project, and currently we are seeking for people to develop this little game with us.
We are searching for:
-Coder (C#)
-Pixel artist
-Voice actor (Male with a deep voice)
Some progress we made: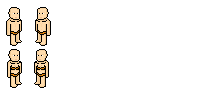 And other animations which i can't upload.
Discord Enter this Discord server if you are interested to work with us or want to see the game being developed.